PANIER DES SENS LIQUID MARSEILLE SOAP - Rose Geranium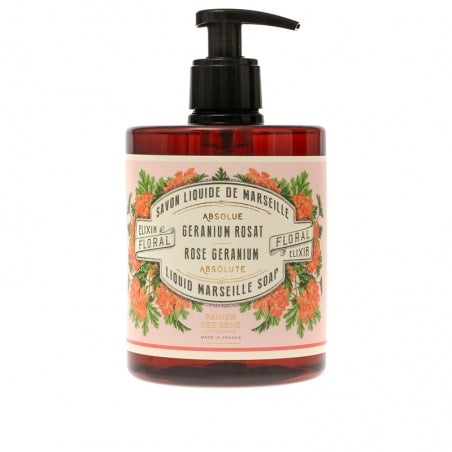 Made from 100% vegetal oils, this liquid soap is made in cauldrons following the purest Marseille tradition.

96% of the total ingredients are from natural origin.
A floral scent with Geranium Rosat absolute: sparkling and tangy!
The leaf of this Mediterranean flower joyfully expresses light and luminous top notes. Rose Geranium absolute harmonizes with the delicate freshness of Rose and Peony notes, sublimated on a background of enticing and bewitching hints of white Musk.
ACTIVES INGREDIENTS
OLIVE OIL
Known since antiquity for its regenerating and moisturizing properties, its benefits are many and perfectly adapted to the needs of dry skin.
Olive oil has antioxidant properties that help fight aging skin. A true alchemy of luxury, it delays cell aging, thanks to vitamin E which fights the formation of free radicals.
It also improves the quality of the skin thanks to its nourishing and toning up action in depth.

COCONUT OIL
The queen of vegetal oils, coconut oil is composed of 90% fatty acids, but also vitamin E, vitamin K and iron. Cold pressed, its anti-inflammatory and antimicrobial properties give it protective and nourishing properties, and also helps against skin ageing. 100% natural, it leaves the skin softened, moisturized and deeply nourished.
You may also like