PANIER DES SENS BODY LOTION - Precious Jasmine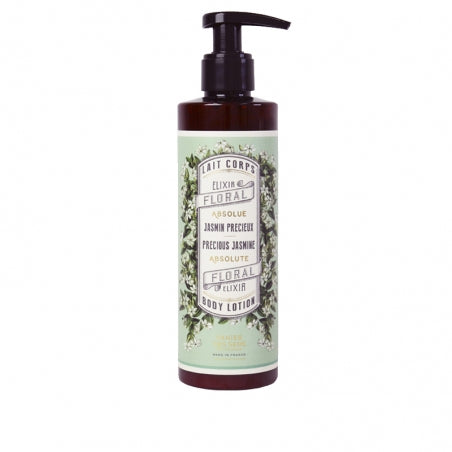 A cream with a fluid and light texture, rich in Olive oil and Shea butter that nourishes the body for a delicately scented care.

97% of the total ingredients are from natural origin.
A floral fragrance with Jasmine Grandiflorum absolute: illuminated by the brightness of fruity, slightly honeyed notes.
Jasmine Grandiflorum absolute unveils a draught of white flowers with voluptuous and generous notes.
The heart of Jasmine, both poetic and sensual, is carried by a background of delicately muskedlight wood.
OLIVE OIL
Known since antiquity for its regenerating and moisturizing properties, its benefits are many and perfectly adapted to the needs of dry skin.
Olive oil has antioxidant properties that help fight aging skin. A true alchemy of luxury, it delays cell aging, thanks to vitamin E which fights the formation of free radicals.
It also improves the quality of the skin thanks to its nourishing and toning up action in depth.

SHEA BUTTER
All of the active ingredients used by Panier des Sens are selected for their naturalness and Provencale history. One, however, is distinguished by its exotic provenance and its universal benefits.
Shea butter is a natural product issued from the Shea nuts of the Butyrospermum Parkii, a savanna tree that grows in Central and West Africa. This exceptional robustness tree can live for more than three centuries ! From the nuts, an ultra rich beige paste is extracted, which will be transformed in butter.
Shea butter has many restorative properties. It softens, moisturizes, and deeply nourishes the skin. Rich in vitamins A, D, E, F, and fatty acids, this skin care ingredient naturally has multiple benefits.
You may also like